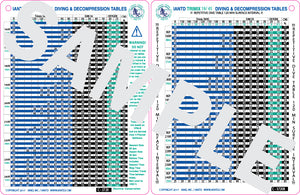 This table is made from a flexible vinyl and it's water-proof.
Dimensions: 9" H x 6.8" W (23cm H x 17.9 cm W) aprox.
WARNING: DO NOT attempt to use these tables unless you are fully trained & certified in the use of Trimix, or under the direct supervision of an Instructor. Proper use of these tables will reduce the risk of decompression sickness & oxygen toxicity, but no table or computer can eliminate those risks.
WARNING: The user of this product must assume all risks associated with this product.